Consortium
The MIRIA consortium comprises 15 partners from 8 EU countries. It is balanced between modelling partners (IDE), nanopowders designers and developers (CUNI, IMN, TAKIS), nanocoatings designers and developers (CSM, PST, VTT, HEN, IMN), nanocoating producers (HEN, PST, MD), characterisation partners (CEA, CNRS, VTT, INSTM, TAKIS), coated parts producers (CCOM, ALVO, SMET).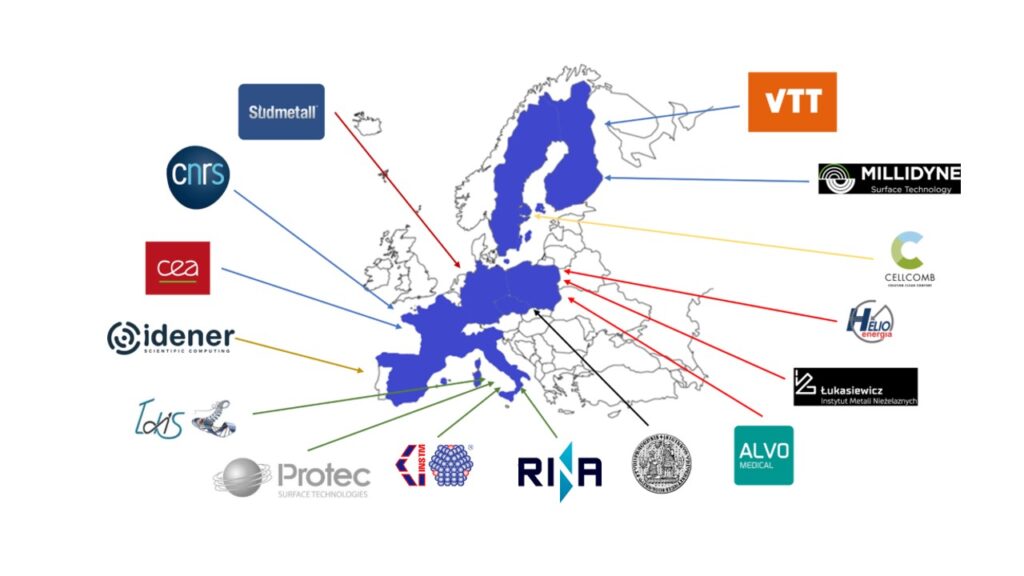 CSM, a key player in materials research and development, has been fully integrated into RINA since 2013. We specialize in testing and engineering solutions across a wide range of industries.
VTT is owned by the Finnish state. We advance the utilisation and commercialisation of research and technology in commerce and society. We bring together people, business, science and technology to solve the biggest challenges of our time.

PROTEC provides a complete solution from pre-treatment, prior to coating, through to the industrial process. It also supports customers with training, on-site support, customised R&D projects, technology upgrades, quality control and characterisation.​
SUDMETALL has over 280 employees and is represented on (almost) all continents of the world. As an independent family business, it is one of the market leaders in the German-speaking countries with the product ranges fittings, glass and metal construction.


Charles University is the oldest and largest university in the Czech Republic, and it is one of the oldest universities in Europe in continuous operation
IMN is a research centre of the Polish non-ferrous industry. Complex activities cover all stages of metallic materials production: from ore treatment to technologies for production of modern product meeting all environmental standards.


TAKIS is a Biotechnology Company with more than 10 years of experience in drug discovery; it contributed to the validation of new targets for the treatment of chronic viral diseases and cancer. It is also recognized for the conception and implementation of innovative technologies.
INSTM is a consortium of 50 Italian universities, substantially all those in which research is carried out on advanced materials and related technologies


IDENER is a private research SME company composed of a team of researchers with a sound scientific background in disciplines comprising the branch of systems engineering, such as electronics and computer, systems integration and control, and process engineering
MILLIDYNE was founded in 1997 to commercialize a coating developed at the Tampere University of Technology. We invested in both laboratory facilities and production equipment to ensure supply of the developed coating chemicals to our global customers. Since then we have been in the forefront of surface technology developing functional coatings and thermal spray consumables.


CNRS is among the world's leading research institutions. Internationally recognised for the excellence of its scientific research, the CNRS is a reference in the world of research and development, as well as for the general public
HELIOENERGIA is a team of engineers, who are specialized in nanotech and material engineering. In the modern lab of Helioenergia we make full range of specialistic products like silver nanopowders and paints. Our concern successfully realize thick-film materials technology & photovoltaics research projects.


CEA is a key player in research, development and innovation in four main areas: defence and security, low carbon energies (nuclear and renewable energies), technological research for industry, fundamental research in the physical sciences and life sciences.​
CELLCOMB offers sustainable products for the global food packaging industry and medical care. We create safer, cleaner, and greener solutions for health care, hygiene, and the food industry. A new sustainable standard. That is our contribution to the future.


ALVO Medical designs, manufactures and installs innovative solutions for operating theaters, hybrid operating theaters, intensive care units, neonatal intensive care units. We equip specialist treatment rooms and hospital wards with devices and hygienic modular infrastructure.